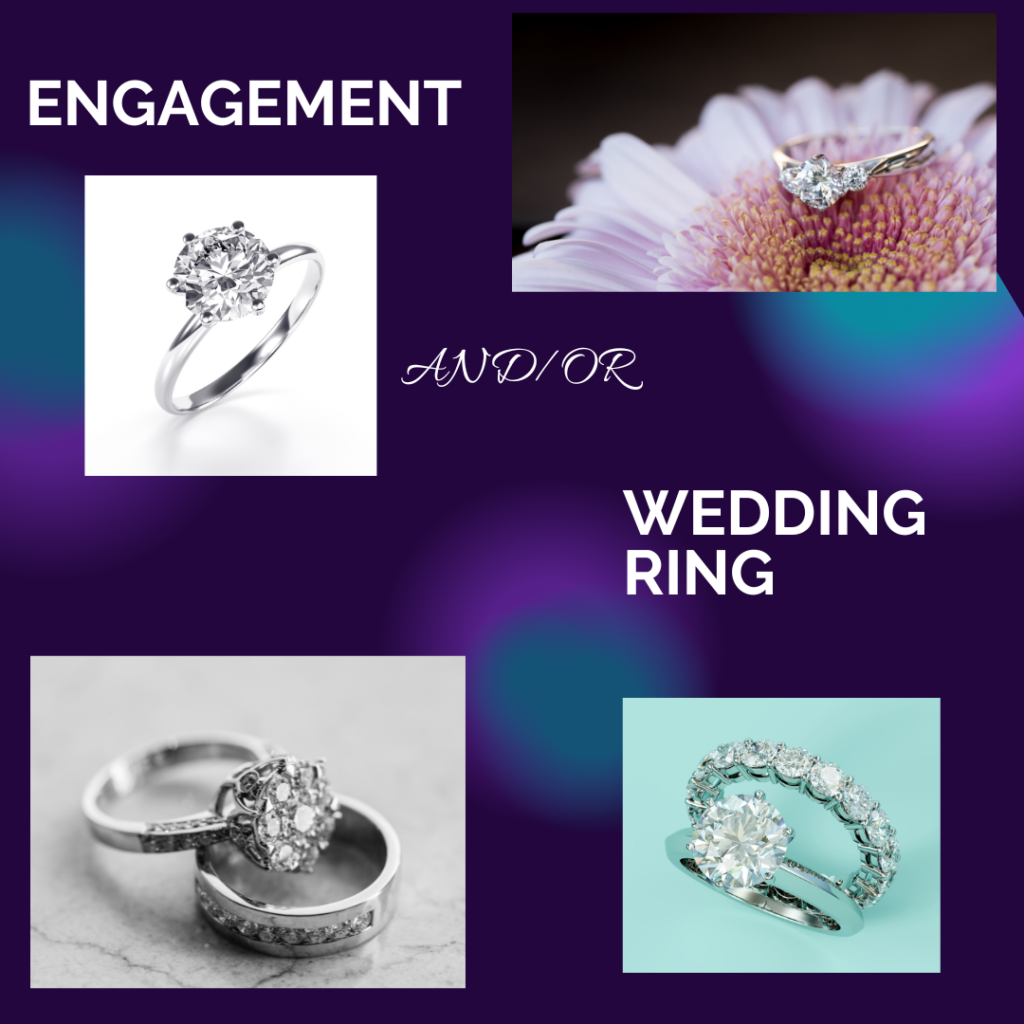 Engagement rings and wedding rings. Do they really have to be purchased together? Did your fiance propose and surprise you with a ring? What's the difference between an engagement ring and a wedding ring? So many questions already in the wedding journey. Don't worry, I have answers for you.
Engagement rings
Traditional engagement rings typically have one dominant stone, which either stands alone or is surrounded by smaller stones. An engagement ring is usually given as part of the proposal or, if not, at an early point in the engagement. Engagement rings can also be purchased as a coordinating set.
Wedding Ring
A wedding ring is traditionally a plain metal band or a diamond-encrusted eternity band that you receive when you exchange your vows during the wedding ceremony.  
Please note, the engagement ring, is typically the larger ring and has more total carat weight to the ring in comparison to the wedding ring.
one ring or two rings
Of course, it's perfectly fine if you'd rather wear one ring to symbolize both your engagement and your (future) married status. Here are a few sensible reasons why some brides opt to wear just one ring:
Single rings can be more comfortable and less obtrusive than a wedding band and engagement ring combination, and they can look absolutely stunning on their own.
It's one less ring to worry about losing, which is especially important if you're a bit scatterbrained.
You also don't have to be concerned about two rings perfectly matching. It can sometimes be tricky to find a wedding band that pairs with your engagement ring if they're not purchased as a set.
The funds that would typically be allocated for both an engagement ring and a wedding band can be invested in a single, standout ring.
So the question after learning about engagement rings, do you want to have a matching set, a single ring? Do you want an engagement ring on one hand and the wedding ring on the other hand?  Once you have decided on an engagement and/or wedding ring.  Next, you need to decide on diamond and/or gemstone, shape, style, quality and type of metal.
Click this link to read an article about gemstones, ring styles, shape, and quality.
There are many more questions and decisions to make along this planning journey. I am here to assist and guide you along this journey. You will appreciate having a trusted and educated advisor. Stop what you are doing and click the link to start the conversation – https://www.honeybook.com/widget/mjk_events_191658/cf_id/5fc1c9606fcc3d2a1be0c767