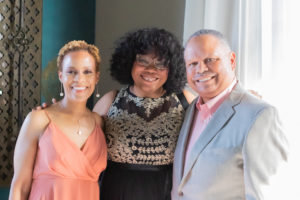 Let me introduce you to Kimberly and Eric Branch. They are a fun loving, family centered and maintaining strong friendship is important to them. Kimberly & Eric were interested in finding wedding planning services to help them create their perfect wedding and reception with them.
They contacted me the last Saturday in January. Since I was participating in an online wedding show on Sunday, I invited them to attend of course. Once the online show was over, we had our initial consultation and we meshed really well.
They had recently gotten engaged and due to the Covid fun, didn't want to wait too long to get married. We quickly got busy chatting. learning and planning. Kimberly had started planning her wedding and found she wanted the assistance and experience of a wedding planner who has done this before. She also has a very logical and analytical mind so it was helpful for her to have someone to explain the how and why of different aspects of their wedding and reception.
The Wedding
When they first signed with me, the plan was to have a church wedding to include streaming services to bring in the family friends from out of state with an intimate dinner reception for the in person wedding guests. They decided to pivot approximately three weeks later (I know people are tired of the word pivot) to a courthouse wedding and a dinner reception. In my heart and head, I was asking "whhaaat?" After questioning and listening to my couple, doing some investigative work we moved forward with the courthouse wedding. It was going to be quaint and quick. Did you notice I said "was"?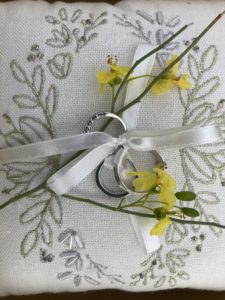 Two days prior to wedding day, I received a call from an associate judge. Our judge was sick and this judge was ready and willing to jump in and perform the ceremony for us. I received the call as I was meeting with the florist to pick up the flowers. I contacted Kimberly and Eric and they decided to pivot again. We were now quickly planning a wedding outside at a park, her mother became the officiant and the whole scheme of the wedding changed.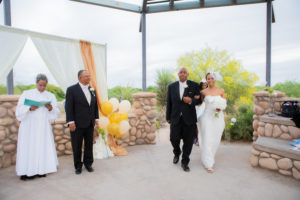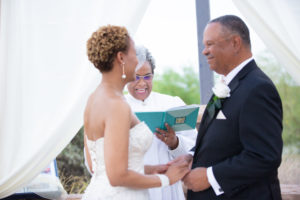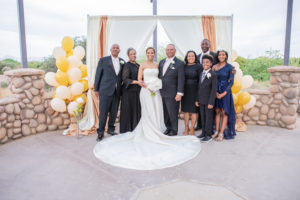 Gratefully, I have really good relationships with other wedding professionals (Festive Events & Rentals, Elaine Kessler Photography) that I was able to call on and get things pivoted for this new wedding. One thing I had not thought about is; the park is not going to sweep or wash down the area. Oh well, we cleaned the best we could with the towels I had with me. There was no rehearsal. It was a beautiful and charming wedding. We even lucked out and our high temperature streak broke and there was a slight breeze.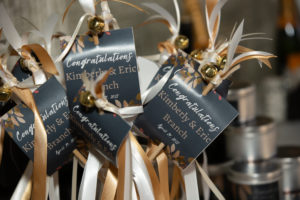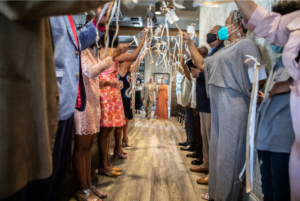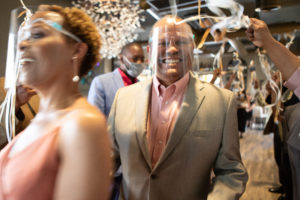 Reception time
Three days later was their dinner reception! I had made some congratulatory wands to be used at the courthouse that we used for their grand entrance at the restaurant – St. Amand Kitchen and Cocktails. We wanted to keep Kimberly & Eric along with their guests safe from Covid. We asked everyone to wear their mask, took their temperature and provided hand sanitizing as they entered the room.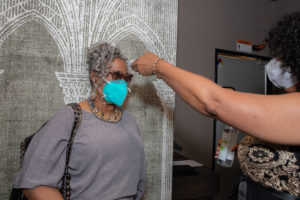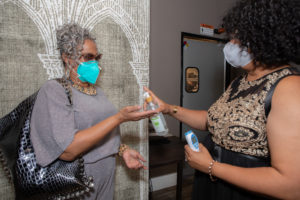 The staff was wonderful and very attentive. We had appetizer time as the guest were arriving along with special wine picked out by Eric. All participants marked their menu card with the dinner choices.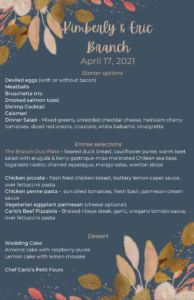 Mr. & Mrs. Branch loved being with their guests for dinner, conversation and dessert. They danced and had special conversation time with their close family and guests. I am very proud that I was able to assist Kimberly & Eric create their intimate, Covid safe and inclusive wedding and reception with their family and close friends. It was the perfect wedding for them!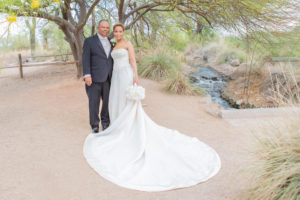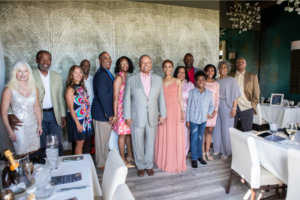 Thank yous
Make-up Artist – Ketonya
Ceremony space – Riparian Preserve
Limo – Zero Limo
Photographer – Elaine Kessler Photography
Ceremony decor – Festive Events & Rentals
Reception space – St. Amand Kitchen and Cocktails
Cake – Sugarlips Cakery
Florist – Finer Detailz Luxury Events