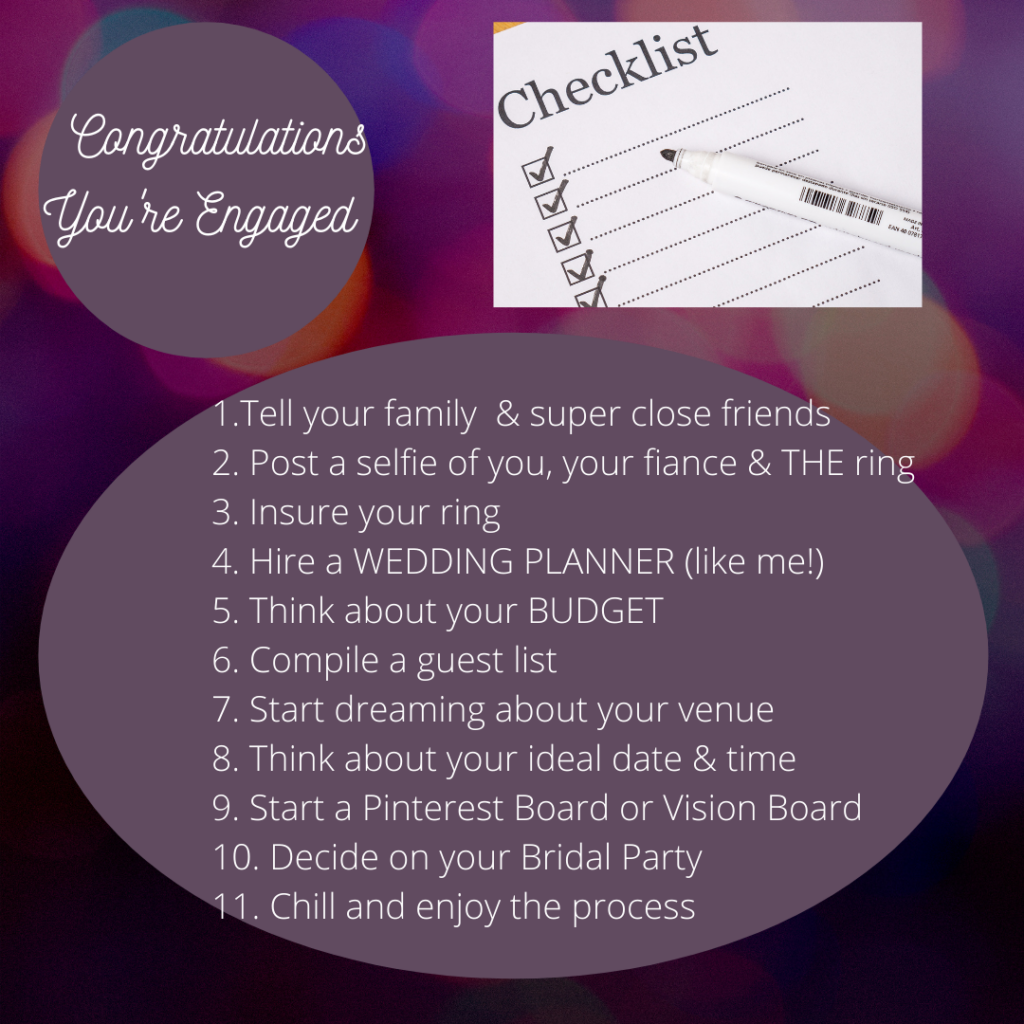 You've been asked and you said "YES!!" Congratulations! Now what do you do to start planning your wedding?
This is a continuation of the first part of an article I shared. Below is a reminder of the first few steps from the graphic above.
Announce your engagement
After you tell your family, share the good news with others. The fastest way to do that is to post to social media. Post a selfie pic with you and your fiance. Take a picture of both of your hands showing the ring. If you know the date or the year the wedding will take place, post a picture of the two of you holding a cute sign with the date. Have fun with it. This also starts to show your personality and design aesthetic as a couple.
Hire a wedding planner
Of course, I would suggest that you hire a wedding planner right away 🙂 A wedding planner can assist you in so many ways (ideas, wedding decor, communication, organization, logistics, time and most importantly peace of mind). Hire a planner that has the experience, education and one that you are comfortable with.
Make sure that you insure your engagement ring and eventually add the wedding rings to the policy.
Money time
The most important and sometimes difficult part in planning your wedding is figuring out your budget for the wedding. This is another reason having a wedding planner is helpful. We have a better idea of what certain elements cost and can guide you realistically to creating your budget based on what you want. Another important fact in deciding your budget is creating your guest list. The number of people you are including directly impacts the cost to entertain and feed your guests.
Fun part of wedding planning
Now begins the fun part of starting to plan a wedding. Dreaming of and figuring out the venue, date and time for your wedding. If you and your finance are night owls, please don't plan a morning wedding with a breakfast/brunch reception. You will not be awake and really present for your big day. Conversely, if you are outdoorsy people, please don't pick a super formal, indoor ballroom with no windows. This would not be a good fit for you. Your wedding is typically the first event as a couple and shows you and your personality to your family, friends and business associates.
Wedding inspiration & visualization
Next start putting together a Vision Board or a Pinterest Board. Now the fun really begins. Don't get too lost in adding too many of the same elements. I would suggest keeping it to 4-6 images to convey your dreams and ideas for your wedding. Again working with a wedding planner can assist you with pulling out your wants and also narrowing down those ideas.
Wedding party
Decide on your wedding party. Your wedding party are the people that are going to stand up with you, help you through the process, celebrate with you and at times help counsel you. Keep that in mind when you are asking people to be a part of your wedding party.
Please make sure that you are enjoying this process. Planning a wedding is something that you typically do once maybe twice in your lifetime. This is another reason hiring a wedding planner is beneficial. We have planned, coordinated and led MANY weddings. You want to look for a highly experienced and educated wedding planner. Can anyone plan a wedding? The answer is Yes. Can anyone plan a well-organized, have the wedding professionals working as a team and allow you and your family to be 100% present and enjoy the day? No. However having a phenomenal, experienced and continually educated wedding planner like myself can allow you to enjoy and have fond memories for future generations to enjoy.
If you are ready to jump in and want more information, please contact me (jeryse@mjkevents.com) or click HERE for more info.