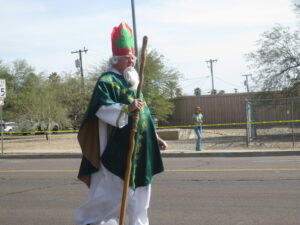 History of St. Patrick's Day
In Ireland, the Irish have celebrated St. Patrick's Day as a religious holiday for over a thousand years. The man known as St. Patrick heard voices in the wind calling him to come to Ireland. He had been captured and enslaved in Ireland. He was forced to herd sheep on Mount Slemish in County Antrim. Mount Slemish was covered with snakes and Patrick was afraid of them. He prayed each night to be able to go back home.
One night he was able to escape on a boat and he was able to go back home. He promised God that if he escaped he would become a bishop and he did just that. Once he became a bishop, he heard those voices again asking him to go back to Ireland and show them a better way of life. He did go back and drove the snakes away into the sea and introduced Christianity to the Irish.
This holiday falls during the Lenten period. Most families would attend church in the morning and celebrate in the afternoon by taking a break from Lenten prohibitions – eat meat, dance and drink. The first parade did not occur in Ireland, it happened in America with soldiers serving in the military. They marched through New York in 1762 to reconnect to their Irish roots.
Since this is a wedding/event planning blog we should have some ideas on creating an Irish themed wedding or event.
Irish themes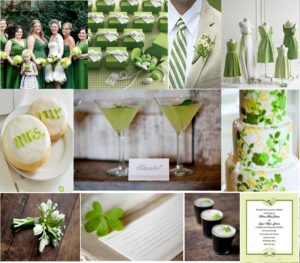 For a wedding or event, try to book at an old church or you could also reserve space at an Irish Cultural Center.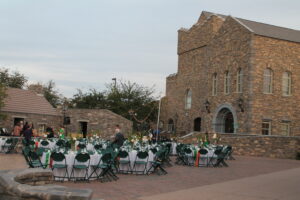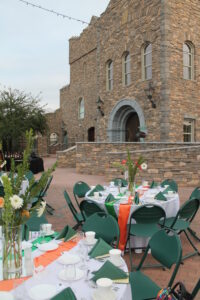 Some images that you might like to consider including on your invitations would be the Celtic cross, claddaugh rings or clovers.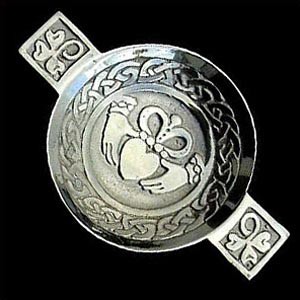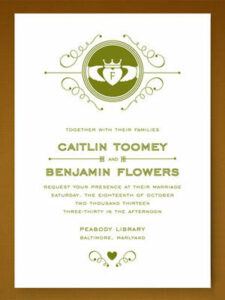 You should include some Irish music during the ceremony and dinner time. I wouldn't over use the Irish music though. Include some modern dance music. You could see about having bag pipes at the wedding and to march into the reception venue to kick the party off. In Arizona there is the Phoenix Pipe Band, Mesa Pipe Band and Len Wood who is also a member of the Irish Cultural Center in Phoenix, Arizona.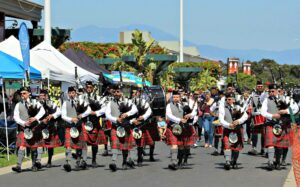 Room Decor
Room decor could include potted 4 leaf clover plants, bells of Ireland with wild flowers for centerpieces. Don't overdue the green. Just because it is an Irish themed wedding does not mean you have to do everything green and use ALL the Irish symbols. Just pick a few of the symbols. Crystals can also be used since Waterford is in Ireland!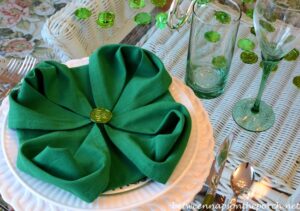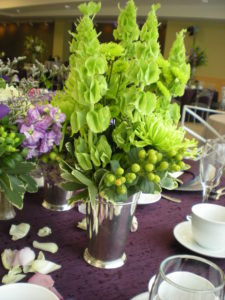 Dinner
Dinner options could be the traditional Corned Beef and cabbage or you could change it up and serve Shepherd's Pie or Irish Stew. An appetizer could be pasties. Instead of Champagne for the toast try serving Mead (honey wine) or Irish whiskey. An Irish themed wedding can be very beautiful and classy. Enjoy your wedding and Happy St. Patrick's Day.
Your Vision, Our Expertise. Book Your Event Today! Click on the link below to start the conversation.
https://mjkevents.com/lets-start-planning/