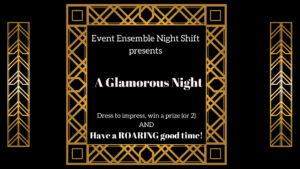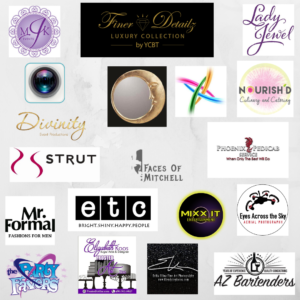 Thanks to our participating event professionals
Lady Jewel – Planner
MJK Events – Planner
Finer Detailz – Rentals & Decor
Snap YourSelfie AZ – Photobooth
Divinity Lighting – Lghts
PediCab Royalty – Transportation
AZ Bartenders – Drinks
Frosted Art – Cake & Cupcakes
Designs by Zima – Florals
Mixx It Entertainment – DJ
ETC by Emily – Servers
Designs by Michele – Jewelry
Strut – Dress & Model
Eyes Across the Sky – Photos & 2 models
Faces of Mitchell – Video
Mr. Formal – Tuxes
Nourish'd Culinary & Catering – Appetizers
Moonstruck Designs – Door prize gift
Erika Ulloa Fine Art Photography – Photos
Our networking group hosted an evening networking party/meeting. Myself and Pearl Filani (Lady Jewel) co-planned this event. Finer Detailz, a subdivision of You Can't Beat This Party Rental was unveiling their new luxury rental line. Based on the look of the design, we decided to go with an Art Deco/Roaring 20's theme. Our colors were white, black and gold with a hint of blush pink. We were asked to plan this event on January 9th with an event date on January 30th. We quickly went to work and our event professionals came though for us. It was an awesome collaboration that came together seamlessly.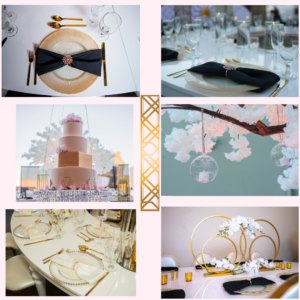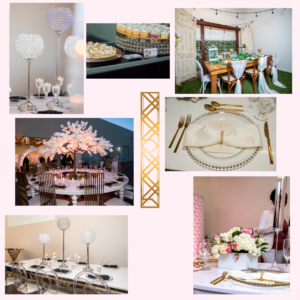 Our floral centerpieces were designed by Bo of Designs by Zima. He created some fun, fresh, delicate pieces that we used on our beautiful serpentine table. We had Tony of Phoenix PediCab riding people around the parking lot or back to their car. This pedicab is super sleek, has awesome lights and a killer sound system. Patti of Mr. Formal lent us a female tux for Pearl to wear and two very distinguished looking tuxes that we got one of our photographers to wear and model. I think I uncovered a new side hustle for them.
Our wonderful bartender Whitney of AZ Bartender mixed up a beautiful and refreshing drink we titled Watermelon Giggle Juice. A 1920's term for an intoxicating beverage was Giggle Water/Juice.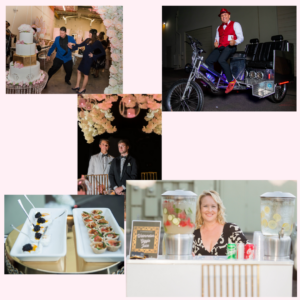 The appetizers were delicious. Frances specializes in vegan and plant based foods. They were created by Nourish'd Culinary & Catering. We were gifted a wait staff from ETC by Emily. These 2 ladies came in and ready to do anything we asked. They assisted with check-in, set-up, keeping the party area clean and tear down. If you are in need of some extra hands at an event, you need to hire staff from ETC by Emily.
Elizabeth Kooz of Frosted Art brought 2 very decadent looking cakes. One was positioned on a very sleek looking gold and white accent table. The other was in a floral arched cake swing. They looked beautiful. We had a fun photobooth with props from Snap YourSelfie AZ. Not only are you able to take and print the photo (4×6″ with a customized logo) but you also have the ability to have them texted or shared directly to social media, genius! Shane of MixxIt Entertainment was playing the music to keep the party atmosphere happy and engaged.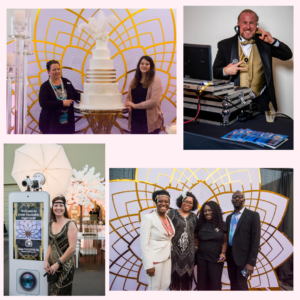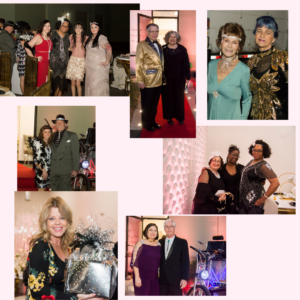 Darlene of Moonstruck designs donated a raffle prize. Melissa & Jaime of Divinity Lighting provided our lovely, soft and warm lighting both inside and outside the rental company. They also provided a gobo for the front of the building that we used in place of a building sign so our attendees knew quickly they had arrived. They also lit up our red carpet entrance. The proper lighting can really transform any space. Brooke & Krissy (our model) from Strut Bridal loaned us a dress from their collection. It was the perfect color and complemented the theme beautifully. Thank you, Thank you, thank you to our photographers. Where would we be without photos. I wouldn't be able to share our event without the moments captured on photo.
Thank you Erika Ulloa Fine Art Photography and Eyes Across the Skies. Mitchell of Faces of Mitchell captured some video which is just as important as photos. If you contemplating between photo and video, I strongly suggest you do both!
It was a fun night networking and reconnecting with the valley's finest event professionals. We requested decadent dress and they showed up and showed out!! Love dressing to impress. Thank you Scott Faver for this networking community and party opportunity. Thank you Tuby & Michael of Finer Detailz for opening up your rental shop and decor to us. They have beautiful rental items and are fun and easy to work with.