Who can benefit from hiring a planner? Everyone that is having a wedding or event!
Everyone? Yes, everyone.
My post normally are coming from the wedding planners point of view. This post, I come to you from a flower shop perspective. I have a part-time job at a flower shop along with my wedding/event planning business. On this particular Saturday it was my turn to work at the flower shop. Along with the wedding, we had centerpieces for a party to deliver and 4 arrangements to go to different homes.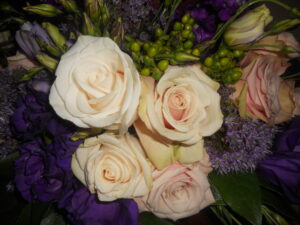 It became pretty clear that a wedding planner would have proven very helpful to this bride and her family. She had family members providing different aspects along with her professional vendors, wedding at one location and reception at another facility. When we started receiving phone calls asking for ETA on the flowers due to them wanting the flowers for the cake that was the first sign. If she had a planner, the planner typically contacts all the vendors and starts putting together a master timeline showing when all vendors and wedding party are arriving and doing what they need to do. This proves to be helpful to pre-troubleshoot the cake arriving at one time and the flowers arriving at a later time. Typically the baker wants to decorate their own creation and rightly so. Most bakers have more than one cake to deliver on the same day so they can't always wait an hour or more waiting for the rest of the decor to arrive for their cake. We had no idea about the need or desire for the flowers to arrive in the morning. The cake was also a slightly different design than the picture that has been shown which caused some concern as to whether there would be enough flowers to fill in between the layers since the cake had considerably taller pillars than in the picture.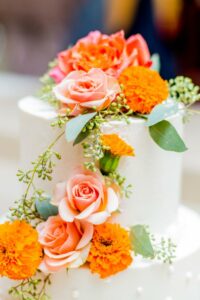 Another aspect from the florist, they have more than one design that they are creating for the same day. It would be helpful to the florist for there to be a wedding planner to contact and get the full picture (all aspects of the wedding day) conveyed before and during the wedding day. The bride, her bridal party and family shouldn't need to troubleshoot the day (or hours prior to) of the wedding. They should be enjoying the moment, creating happy memories and be present in the moment. These weddings fly by and you want to be able to take it all in. You won't get that time back.
At the end of the day, the bride and the family were happy with the flowers and the cake. Honestly that is all any vendor wants and strives toward. A happy bridal couple, happy family members and having positive feedback about their product and more importantly their service.