March is here. I don't know about you, but February flew by with lightening speed. The Olympics are over, "This Is Us" is back on TV and St. Patrick's Day is right around the corner. Before you get to St. Patrick's Day do something to celebrate International Women's Day!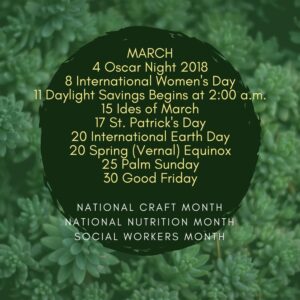 Once I married an Irishman, I decided I better learn how to make some Irish foods. I have learned how to master the corned beef (rinse it so it isn't too salty) & cabbage (cook the cabbage in a seperate pot with some of the broth) in the crock pot, shepherds pie (using ground beef or leftover corned beef), corned beef hash (again with leftover IF there is any left). I had even made a pasty. I am not a pastry person so even though I enjoy eating them, I don't enjoy making them. I have mastered the Soda Bread and make it every year. I make 2-3 loaves and my husband enjoys drinking the leftover buttermilk with pepper (yuck).
Irish Soda Bread
This recipe is from the cookbook "Joy of Cooking" by Irma Rombauer and Marion Becker. It was a cookbook that my mom had. I believe it is the 1967 edition. Once I married an Irishman, I decided I better find a recipe. I have taken some ingredients out for our taste buds (raisins, caraway seeds). It is a very easy recipe. YOU MUST HAVE plenty of butter and jam to serve with it.
Preheat oven to 375 degrees.
Sift together in a large bowl
2 cups all-purpose flour
3/4 tsp baking soda
1/2 tsp salt
1 tbsp sugar
Cut into the flour mixture with a pastry blender, until the consistency of coarse corn meal
6 tbsp chilled shortening
Stir in
1/2 – 1 cup raisins
1 tbsp caraway seeds
Add gradually
1/2 – 3/4 cup buttermilk
The mixture should not be dry. Knead breifly and shape into a round loaf or a 9×5″ one. (I usually bake it in a pie pan) Put the dough in a greased pan. Cut a bold cross on top, letting it go over the sides so the bread will not crack in baking. Brush the top with milk.
Bake for 40-50 minutes.
Serve with your Irish meal – corned beef & cabbage, pasties or shepherds pie. OR you can have a slice with a nice warm cup of tea!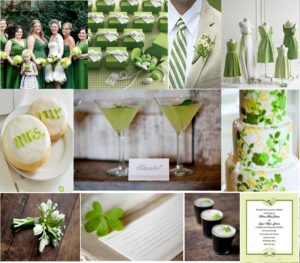 Irish Wedding Traditions
Toast with Mead (a honey fermented drink) and recite and Irish Proverb. The Irish word for honey is meala. The tradition is that the couple would receive enough mead to toast with for one full moon after the wedding. This is where the term "honeymoon" originates.
Ringing Bells to keep evil spirits away. Know the bells are wonderful gifts to give and receive. They can be rung after the vows are done by the couple or the guest could have a bell to ring after or during the kiss!
Handfasting or Tying the Knot – Use ribbon or cord to loosely tie the couples hands together. This is the Celtic way of sealing the deal for your betrothal. This where the term "Tying the Knot" came from.
Horseshoe – This was considered a symbol for good luck. It had to remain in the upright U shape otherwise all the good luck would pour out.
Claddaugh Ring – Two hands holding a crowned heart. This symbolizes loyalty and love. If you are single, it would be worn on the right hand with the heart pointing toward the fingers. If you are dating someone, it would be turned so the point of the heart is towards your hand. Once engaged, you move it to your left hand with the point of the heart towards your finger. Once married it is turned so the point of the heart is pointing towards your heart.
Flowers – wild flowers typically were worn as a crown instead of a veil. They should include English Lavender, Bells of Ireland.
Date – The most popular date was the Tuesday before Lent. A Celtic folk rhyme –
Monday for wealth,
Tuesday for health,
Wednesday the best day of all,
Thursday for losses,
Friday for crosses,
And Saturday no luck at all
Wedding Cake – The traditional wedding cake was a fruitcake made with honey and soaked in Irish whiskey with a white cream icing.
Enjoy March, April will be here starting off with April Fool's Day and Easter (yes on the same day) right at the beginning.