Less than a year ago, I joined this wonderful networking group Event Ensemble.  I have had the opportunity to make some new friends that also have a passion for creating wonderful weddings/events which leads to creating memories.  I was given the opportunity to create a "signature event" for this networking group.  I was given the date and was connected with Karen Hunt of The Falls Event Center and open range of possibilities.  Karen and I met and we decided on Christmas in July with a goal of getting the participants to have fun, garner business tips/inspiration, interact in a different way than what we are accustomed to, see and experience her new property (The Falls Event Center) and most importantly HAVE FUN!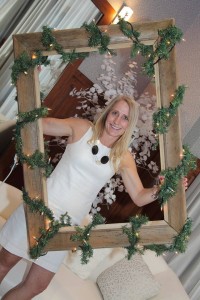 Since it was Christmas in July, we wanted people to receive gifts and GIVE gifts.  We incorporated a service project in conjunction with our meeting.  We collected toiletry items to put together a shoebox for Shoebox ministries.  Shoebox ministries creates these shoeboxes of toiletry items and delivers them to shelters for homeless and the working poor.  They can create family boxes or boxes specific for men/women.  They are located in Scottsdale.  If you have extra toiletry items, they are always willing to accept your donation.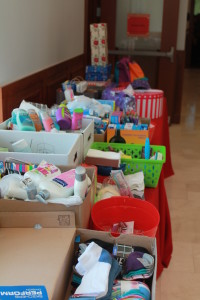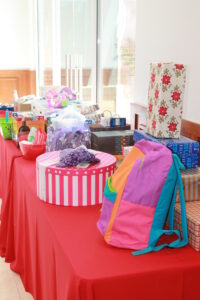 Planning of the Christmas in July meeting
I started reaching out to vendors that I had FaceTimes with.  I really wanted to try and use either newer members or members that haven't had the opportunity to share their talents yet.  Through the graciousness of the group, we had approximately 30 vendors donating their time and services!!!!  We also had 5 businesses donate centerpieces!!
Centerpiece donations
Brenda Doesksen – SpeedPro Imaging, Eva Dwight – Creative Coaching Conversations, Cole St. Clair – Edward Jones, Maria Ragain – Blooming Expressions Flowers and Tony Medlock – PJ's Flowers.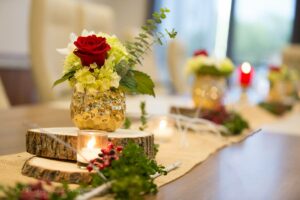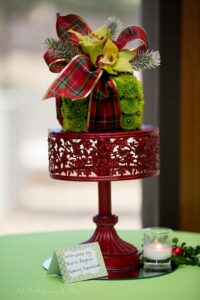 Vendors
Johnnies Java & Johnnies's Java Snow
Life of the Party Entertainment
Rites O'Passage Ceremony & Coaching
Showstoppers Interactive Entertainment
Executing the Christmas in July meeting
It's meeting day!!  I solicited the help of my friend Gina to help me day of and she did a fabulous job.  It reminded me of our DSMOM/ASMOMO  (Desert Sky Mothers of Multiples/Arizona State Mothers of Multiples Organization) Twins Club days with the events, meeting and conventions we would volunteer at or host.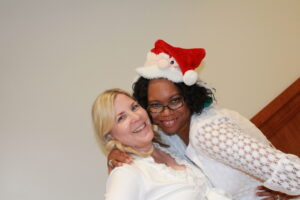 The vendors came through big time to make the event a fun and positive experience.  There were close to 80 Event Ensemble members that attended.  The surprises (carolers and The Grinch) that I planned, arrived and they were perfect.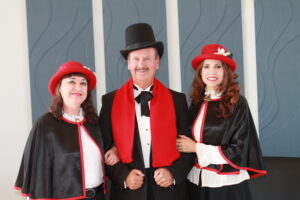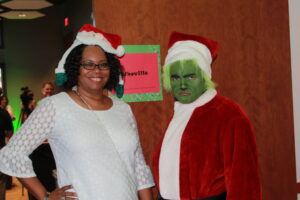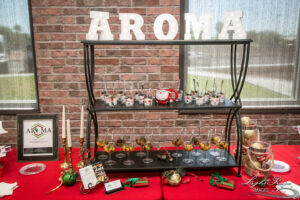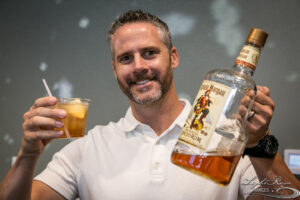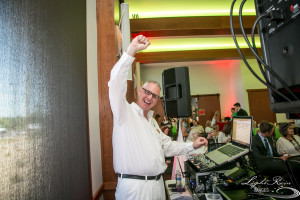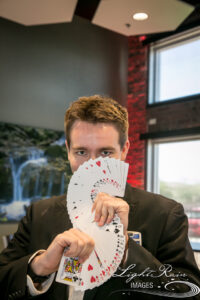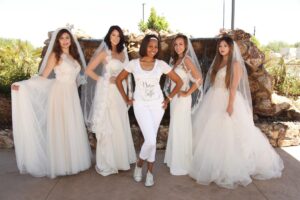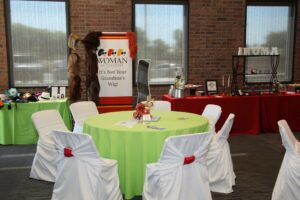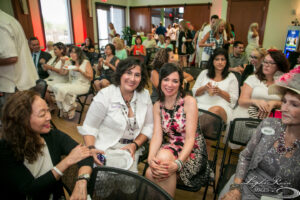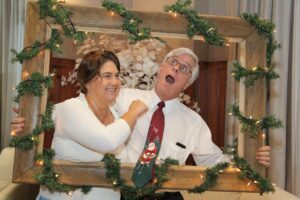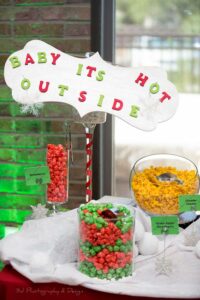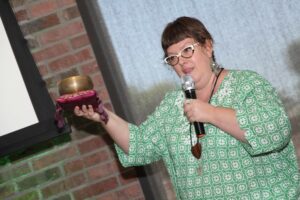 The donations for Shoebox Ministries started arriving and arriving and arriving.  Through the graciousness of Leslie Oesteman and The Platinum Experience, she brought a couple of elves to help pack boxes and even made trips to Walmart to purchase some extra items to complete some boxes.  Our group donated 39 COMPLETE shoeboxes and some extra supplies to start another 20 boxes!!!!!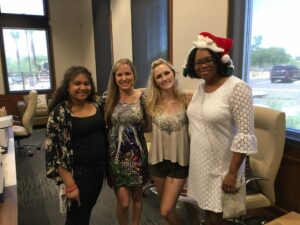 Thank you, THANK YOU, Thank You!!! to Scott Faver for allowing me this opportunity and trusting me with this endeavor.  Thank you to the vendors that donated their time and services.  Thank you Karen Hunt and the Falls Event Center staff for being awesome and very accommodating to work with. Last but not least, Thank you to the Event Ensemble peeps that attended the event and also those that weren't there in person but in spirit and sending happy vibes for a successful event.