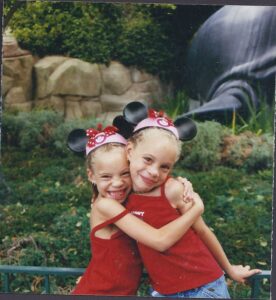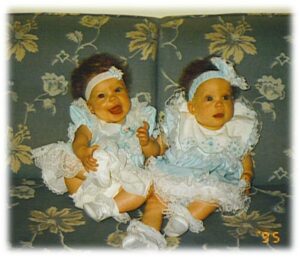 Sorry in advance, you get to endure a personal blog post.  My twin daughters have hit another milestone.  They have turned 18 years old.  Holy Cow, I can't believe I survived to see them turn 18.  I remember when they were born and attending twins club meetings and hearing moms introduce themselves and say their twins are 5 or 8 and thinking, "Wow, I can't believe their kids are that old.  I hope I can make it to potty training".  Well we made it through potty training, going off to school, friendships, coming back home for schooling, PUBERTY, high school days, driving permits and more.
For their 18th birthday, they decided they would like a huge bash.  I like a good party like most people, so we planned an 18th Birthday Bash and celebrated the 90's.  My girls were huge Barbie girls – so we had Barbie plates, Pin the sunglasses on Barbie, had a DJ and requested him to play a lot of 90's hits.  It was a fun night and it was awesome hearing some of the hits again from back in the day.  They even wanted Goldfish crackers as one of their snack foods.  I can't even begin to tell you how many pounds of Goldfish crackers I have purchased in their childhood.
We used Oscar Betancourth from Valley Mix Entertainment.  I had just recently met him at one of my ABC (Association of Bridal Consultants) meetings.  I had really good vibes from him.  He was very personable, talkative and he was playing great music.  He did an AWESOME job at the party.  He got the crowd going, had some cool light displays and he even talked with my son about being a DJ.  He remembered me mentioning about my son wanting to be a DJ and allowed him to play a few songs.  My son is 12 and is still riding on cloud 9 from that experience!
Happy Birthday to my "twinkies" and Thanks again Oscar Betancourth with Valley Mix Entertainment!