Do you or your daughter have any Irish ancestry?  If the answer is yes, than you or your daughter can participate in one of the Arizona Colleen programs.  The Arizona Colleen program, headed by Ann Niemann, are to help girls learn and take pride in their Irish heritage, learn poise, stage presence, and public speaking.  Ann Niemann and the Arizona Colleen programs are helping to build girls with Irish heritage to have a strong moral character and build self esteem at the same time.  There are programs for 6-12 year olds – Little Miss Shamrock,  13-17 year olds – Arizona Lass, and 18-27 year olds – Arizona Colleen.  The person selected as the Arizona Colleen then goes to Ireland to compete for the Rose of  Tralee.
Now that you know a little more about the Arizona Colleen program, I can talk about how I helped to coordinated their fundraiser.  I connected with a fabulous lady and entrepreneur, Elaine Price.  Her business is Elaine's Afternoon Tea.  She is a sweetie from both England and Ireland and makes fabulous scones, Irish soda bread and Fairy cakes.  The scones Elaine made were Cheddar and parmesan cheese with black pepper,Cranberry, Blueberry, chocolate chip, and plain butter scones.  She made a plain white soda bread, using her Irish Grandma Monaghan's Wexford recipe which paired well with my friend Loraine's homemade lemon curd!  The scones and soda bread were made with butter and buttermilk!  Elaine also provided favors to our guest which was shortbread jammies and a sample tea from Revolution Tea.  Her food is fabulous and the presentation is fabulous also.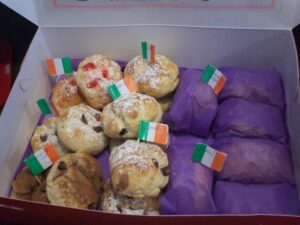 The contestants, current and previous titleholders performed.  Of course there was Irish dancing, but there was also singing and lyrical dance.  The 2012 Colleen contestants modeled fashions that would be worn during the trip to Ireland for the Rose of Tralee selection.  They modeled tea dresses, day wear and evening wear.  Some of the dresses were from their own closet and some were borrowed from Arizona Evening and Pageant Wear owned by Suzanne Demski.  I provided roses to be given to the models to Thank them for modeling and giving of their time to the program.
We asked each table hostess to bring their tea pot, sugar and creamer and to bake a cake to be used as their centerpiece for the table.  The table hostesses did a wonderful job on their centerpieces, encouraging conversation at their table, serving drinks (hot tea, water and lemonade) and food (scones, Irish soda bread, fruit cups).  As a "Thank You" to my table hostesses I crochet teapot trivets to give to them.
It was a fun afternoon and I look forward to working with Ann and the program in the future.