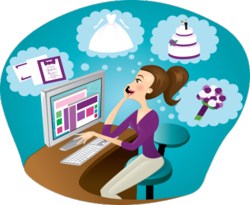 So you and your fiance have just gotten engaged. CONGRATULATIONS!!!! This is going to be a very exciting time in your life. Once you have told your parents, the next thing you should do is hire a wedding planner. Whether you have an unlimited budget or a tight budget you should hire a wedding planner.
Should I hire a wedding planner?
For the super busy person, consider hiring a full service planner. Typically this person will have contacts with almost every aspect of a wedding, save you time and energy. If you like to be creative, consider hiring a partial service planner. You do some of the planning and designing and your planner does some of the planning and designing based on your dreams and wishes.
You might be the type that wants to plan it all but you are unsure. How many weddings have you planned? I know in most cases I have planned more weddings than you. We can help you with the final details and orchestrate your creation from rehearsal to end of your reception so you can enjoy your wedding and reception as though you were a guest. This type of coordinator could be called the day of coordinator or wedding management. The planner needs to come in about 2-3 weeks prior to the rehearsal to help finalize details, create timelines, and help you make sure all details have been addressed. Again this person might be able to get you discounts but they can also help bring your dream wedding to fruition and help you to feel like a guest at your wedding.
How to hire a wedding planner
Make sure you check references for any wedding professional, including wedding planners. Our goal as a planner is to help you and your fiance visualize their first party as a newly married couple and create an atmosphere where they can be a guest at their own wedding and reception. You can search for wedding planners from Associations such as ABC (Association of Bridal Consultants), The Knot or Wedding Wire.
In closing, yes every wedding should hire a wedding planner to help with ideas, decor and design, saving you time and enjoy the process along the way.