What will your wedding dress look like?  Will you wear white, ivory, champagne, pink or ecru?  Sweetheart neckline, modified sweetheart, strapless, sleeveless, train or no train, pearls, crystals, appliques, satin, taffeta, tulle, mermaid style or ball gown.  How did the wedding dress evolve?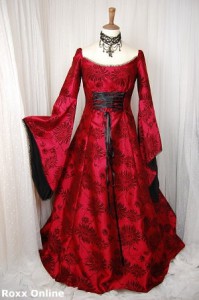 Ancient brides chose to symbolize their happiness by wearing bright colored wedding garments.  During Medieval times, the wedding symbolized the union of two people, two families and in some cases two countries.  Brides would choose their dress to cast her family in the favorable light.  If she was of an elevated social standing she would choose colors and fabrics that were rich and expensive.
As time past, brides continued to select a dress that would fit her social status.  High social standing brides would try to pick the height of fashion with rich bold colors.  Brides in a lower social class would wear her church dress.  The amount of material a wedding dress contained also reflected the social standing.  Obviously the more material, longer wider sleeves, length of train also indicated the social standing of the family.  The more elaborate the higher the class.
So where did the white wedding dress come from?  It actually came from Queen Victoria in 1840 when she married her cousin Prince Albert of Saxe.  Prior to this marriage, white was the symbol of wealth and blue was the symbol for purity.  Queen Victoria's dress surprised many people, however European's and American's fell in love with it and began wearing white as well.
The Industrial Revolution also helped to change the standard.  During the 1890's with the arrival of the department store, many women could fulfill their dream and be married in a new wedding dress.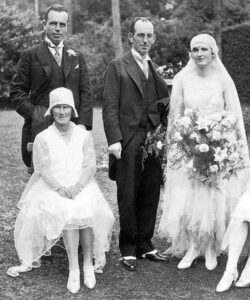 WWI changed the look of the wedding dress.  Styles became simple and reflected the changing role of women in society.  Hems started getting shorter and they were getting rid of the corset.  Coco Chanel officially introduced the short wedding dress during the 1920's.  It was a knee length dress worn with a long train.During the depression time, brides made do with their "best" dress for the wedding.  If a bride purchased a new dress, after the wedding she would dye it a different color and continue wearing it.  WWII brought about another change.  Women thought it was their duty to give up the traditional wedding and would borrow or rent a dress for the ceremony.  After the war, the large wedding became a reality again.  It was ushered in with Grace Kelly's marriage to Prince Monaco.  She wore a white silk and lace gown.  Now that we have learned some of the history behind the dress, long or short, corseted or loose, white or blue, choose what is best for you and your style of wedding.  Still can't decide, maybe this poem can help.
"Married in white, you will have chosen all right.  Married in grey, you will go far away.  Married in black, you will wish yourself back.  Married in red, you'll wish yourself dead.  Married in blue, you will always be true.  Married in pearl,  you'll live in a whirl.  Married in green, ashamed to be seen.  Married in yellow, ashamed of the fellow.  Married in brown, you'll live out of town.  Married in pink, your spirits will sink."
---